WHICH MICRO CLUTCH MODEL (L-PLATE VS. I-PLATE) FITS MY CAMERA?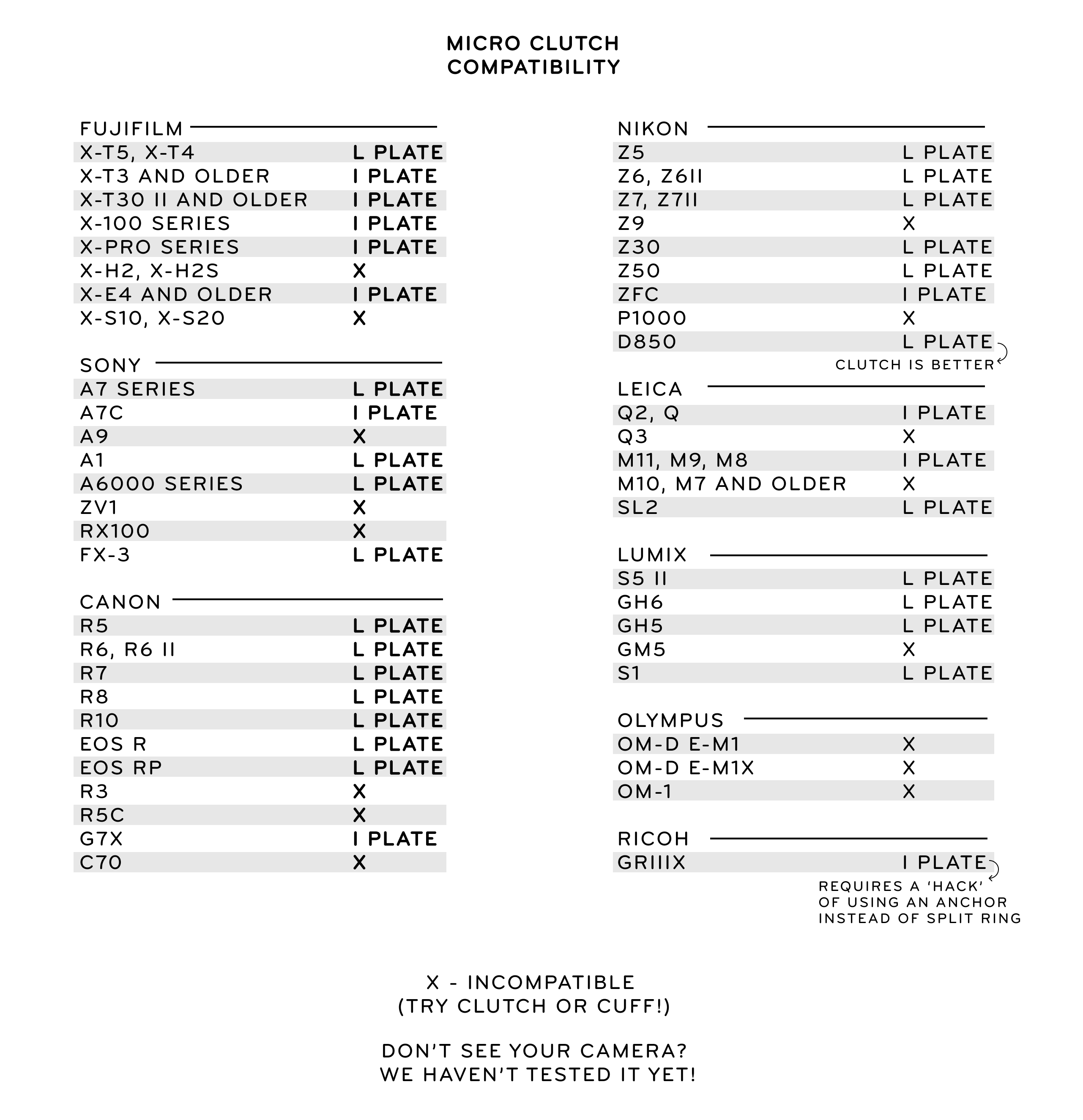 Like the above chart says, there are still plenty of cameras we haven't tried out yet. As we try more, we will update the chart. OR get your ruler out and check for yourself, this handy trick helps determine which model of Micro Clutch works best for your rig:

Pictures Below
We've got some pictures of the Micro Clutch on a few different camera models below. Still, got compatibility questions? Check out info further down the page for even more explanations.

A note on the Ricoh GRIII: Micro Clutch I Plate works on this little beast of a camera, but it requires using a Peak Design Anchor (sold separately or with our other straps) to attach to the eyelet, as opposed to the included split ring: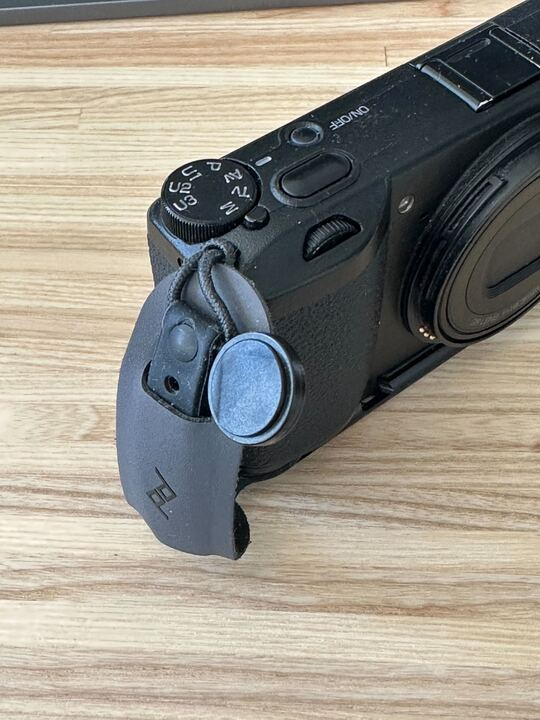 If the diagram and examples above still leave you with open questions, read on.
Picking the right Clutch is easy, it depends on your camera type and the shape of your specific camera body. There are a few simple rules to follow, as well as a few uncommon exceptions.
THE RULES
If you have a DSLR or SLR, get Clutch (even works with battery grips)
If you have a mirrorless camera, get Micro Clutch.

If your mirrorless camera has a protruding hand grip, get the 'L-plate' version of Micro Clutch.
If your mirrorless camera does not have a protruding hand grip, get the 'I-plate' version of Micro Clutch.
Easy peasy. Now, like any good rule, there are a few exceptions that you should be aware of:
Exception 1: Some mirrorless cameras with protruding hand grips but actually work better with I-plate.
This is the most common exception. There are some mirrorless cameras with protruding hand grips that work better with I-plate. This is either because the hand grip doesn't protrude enough, or because the ¼-20 mount on your camera is set too far forward. In both cases, the L-plate will hang over the front edge of your camera and will be both uncomfortable and unsightly. Common camera models that meet Exception 1 criteria are the Sony a7c (but not other a7 models) and the Sony a6000 series (but not the a6600, that actually works a bit better with the L-plate).
How do you know if your camera is in this category? Take a ruler and measure the distance from the center of your ¼-20 mount to the front of your grip. If that distance is more than 3cm, get the L-plate. Otherwise, get the I-plate.
Exception 2: Some cameras are too small to fit any of our Clutch / Micro Clutch models.
Most compact point-and-shoot style cameras fit into this category. If your camera can fit in your pocket, it's probably too small for our hand straps. The Sony RX100 is an example of a popular camera model that is a bit too small for Micro Clutch. If your camera falls into this category, check out our extremely popular Cuff Wrist Strap.
Exception 3: Some cameras are compatible with Clutch and Micro Clutch.
Some mirrorless cameras have a large enough body and hand grip that they can work with Clutch and Micro Clutch. Common examples are the Leica SL2, Canon R-Series, and Nikon Z-series mirrorless cameras. If you have one of these really big mirrorless cameras, we recommend the larger Clutch hand strap if you frequently shoot with heavy glass. But if you'd prefer a smaller, more streamlined grip (or you just don't use big glass very much) then go for the Micro Clutch with L-Plate.
….and if you are a rule breaker and asking yourself. "Can I use an I-Plate on a camera that fits better with the L-Plate?"
Yes, you can physically attach the I-Plate to any camera that accommodates an L-Plate. That said, we designed the L-Plate for a good reason. A camera with a larger grip encourages your hand to move farther towards to the front of the camera and away from the midline of the baseplate. If you are using an I-Plate on a camera with a pronounced grip, it's possible you will experience more pressure from the hand pad between your fingers when you try to achieve a comfortable hand position. We alleviate this pressure in the L-Plate by moving the base plate pivot position forward towards the front of the camera. In addition, the L-plate has a longer hypalon band and a longer hand pad to account for the increased distance the strap needs to travel across your hand. The L-Plate was optimized for the Sony a7 series cameras, but will work on cameras with a similar body style. Cameras that are too large for the L-Plate are a good candidate for Clutch.