RICOH THETA V
360° makes it real.
High-end model for realistically experiencing all types of spaces.
Bringing innovation to the imaging experience. Record and recreate the real world in 360 degrees.
High quality image with improved resolution delivers a more natural three-dimensional experience and coloring.
360º spatial audio lets you record sound from all directions.
Realistically record images and audio of the world surrounding youto recreate inspiring moments.
High-quality image
High-quality 360º still images equivalent to 14M
Record high-resolution, 360ºstill images equivalent to 14M output pixels.
A completely new algorithm delivers low-noise, high-resolution, and high-quality images from low to high sensitivity.
High-speed readout image sensor
Two 1/2.3-type image sensors provide high-speed image data readout. An image sensor is included which delivers high-quality spherical video.
4K video shooting
4K/30 fps high-quality videos
Video performance has been significantly improved, making 4K (3840×1920, 56Mbps), 30 fps high-resolution 360ºshooting possible. Enjoy recording realistic spherical images.*1
*1 The resolution of recording data is 4K (3840×1920). The resolution of the spherical video viewed varies depending on the display equipment or the magnification ratio
Main processor
The Qualcomm(R) Snapdragon(TM) is used as a main processor. It delivers a variety of improvements including faster image processing and wireless transfer speed, and power saving capabilities.
360゜spatial audio
Record 360゜spatial audio with a 4-channel microphone
New VR (virtual reality) compatible spatial audio technology is adopted to this model. Enjoy a completely new, realistic experience with linked video and audio.
High-performance 4-channel microphone
Four built-in microphones make it possible to record audio independently from four directions. This is then converted to a format that recreates natural 360゜ spatial audio.
Exclusive external 3D Microphone TA-1 (Optional)
This is a four-direction, 360゜spatial audio microphone designed specially for the THETA V. Use it to record even higher quality audio with a more realistic feel.
New functions for further possiblities in spherical camera
World's first*2 Remote Playback*3
Image data recorded on THETA V can be played back in 360º on a monitor such as TV. The THETA V also functions as a remote control which can be used to select the image file and move displayed 360ºimage up, down, left, and right. It can also zoom-in and out.
*2 As a consumer-oriented spherical camera (According to Ricoh research)
*3 Other devices are required, including the separate wireless display adapter.
High sensitivity of ISO 3200/6400
Enjoy high-sensitivity shooting from ISO 3200 (still images) to ISO 6400 (videos, live streaming). This range of sensitivity is highly effective for shooting in dark scenes.
Underwater Housing TW-1 (Optional)
This is an authentic waterproof housing with IPX8, JIS Class 8 equivalent protection class for shooting underwater to 30 m. The housing features AR anti-reflective coating and a hard coating.
1/25000 seconds shutter speed
The shutter speed can be set in a range from 1/25000 to 60 seconds.
Equipped with a gyro sensor
This model is equipped with a new gyro sensor in addition to the conventional acceleration sensor. Tilt detection precision has been significantly improved, along with top/bottom correction precision enhancements and the ability for Remote Playback.
Advanced image processing technology
Advanced image processing technology cultivated over the years in camera development deliver image quality with minimal loss of shadow detail and highlight blowout even in scenes with varying levels of contrast. The white balance algorithm has been completely retuned to achieve natural hues for a wide range of scenes.
Interval shooting
The minimum shooting interval is 4 seconds. This enables a greater range of use when creating time lapse videos.
4K live streaming
This model supports 4K compatible 360 degree live streaming.
Output the 4K (3840×1920 pixels), 360ºimage in real-time.
More 360ºfreedom with improved controls and extensibility
Dual communication – Bluetooth & wireless LAN
In addition to wireless LAN, Bluetooth is now adopted for constant connection*4 to your smartphone. Enjoy instant remote shooting and change shooting settings wherever you are.
*4 When sleep mode is activated. You can shut the camera off by holding the power button.
Wireless LAN client mode*5
You can connect to a smartphone via wireless LAN access point. You can connect to THETA V using the Internet connection on your smartphone. Now you are free from troublesome wireless connection switching.
*5 Compatibility planned with firmware update.
High-speed data transfer
Communication speed for both still images and videos is drastically improved. The maximum data transfer is approximately x2.5*6 faster than that of conventional models.
*6 Compared to THETA S. Actual measured value of time required to transfer data to an iOS device with video data of the same size. According to Ricoh research.
Expanded functions via plugins*7
A new system based on the Android™ OS is used on this mode. Adding plugins to the camera makes it possible to expand various features.
*7 The Remote Playback function is a pre-installed plugin.
Compact and slim. The THETA design delivers both high-quality 360 degree image shooting and ease of use.
Color – Metallic gray
45.2 mm (W) x 130.6 mm (H) x 22.9 mm (17.9 mm *8) (D)
Weight – Approx. 121 g
*8 Excluding lens section.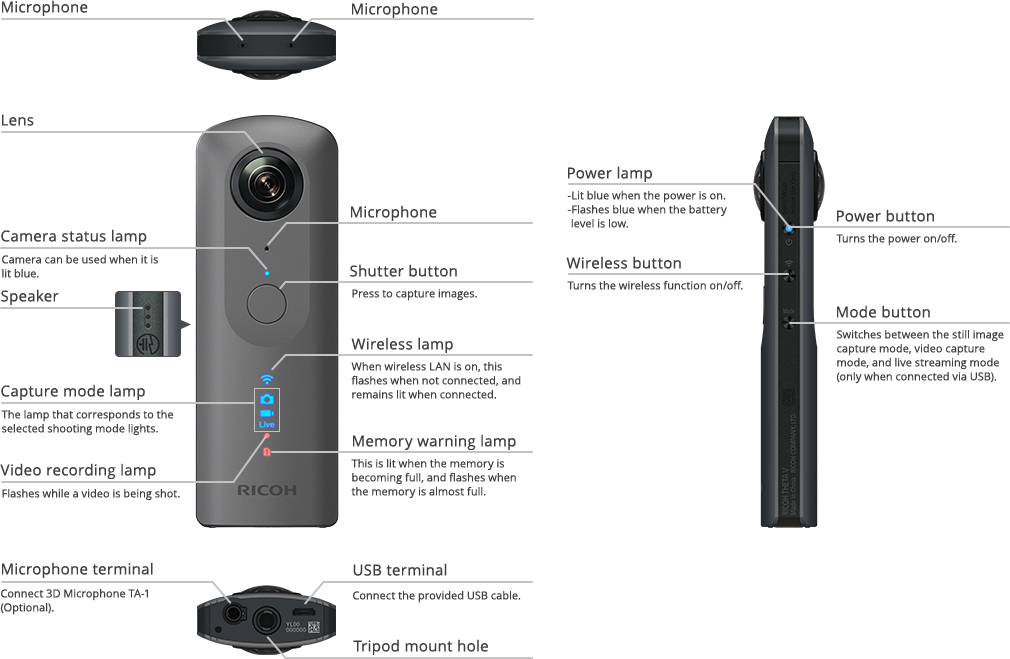 Street View mobile ready
RICOH THETA V is compatible with the Google Street View app. The app enables you to record and publish 360 video (as Street View) to Google Maps. Join people from around the world in mapping and exploring new spaces with the RICOH THETA V and Google Street View.